28 Jan 2012 - 78 Days, 829 Miles
Posted on 28 Jan 18:05
Riding Log: I've done a 50 mile ride up the Thames - from Putney to Windsor; apart from that we're still doing about 10 miles per day on North London roads, tow paths and parks. It's rained a bit, we've had a bit of mud. But not much.
Full Test. We've taken the wheels off, cleaned them, removed the tyres and tubes, and inspected them, including putting them in a jig to look at trueness and roundness. 
Fore and Aft
Bearing Condition
Front: No play, probably a tiny bit tight. We will have a go at taking that tightness out and update you when this is done.
Rear: A tiny bit of play, very smooth, appear to be as new.
Spoke Tension
Both: Ideal tightness, consistent.
Trueness
Front: acceptable, but needed truing. This has been done.
Rear: almost perfect, could still be fine tuned with a short true, so we did that too.
Roundness
Both wheels: slight deviation from roundness, but not an issue so we haven't trued for this.
Rim Wear
Front: no detectable wear.
Rear: no brake, no wear...
Cosmetic Condition
Very good. The odd scrape has taken a bit of paint off the rims but most is absolutely as new. Hubs and spokes show no change at all.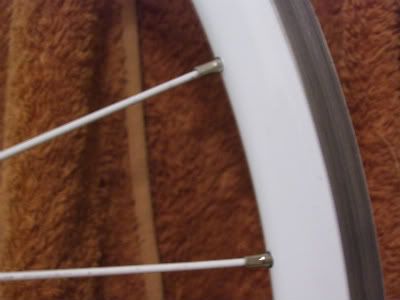 Gleaming, (but out of focus sorry)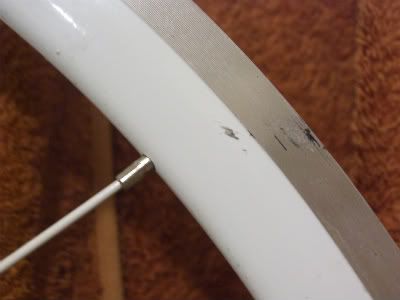 Small scrape
Sprocket and Chain
Our sprocket has minimal wear; the chain will be measured for stretch as soon as we can do it. However it has suffered after being washed at about the 450 mile mark and not well oiled afterwards. So I predict it won't make 5,000 miles.
Summary
The wheels are in great condition throughout. We have trued them, will fine tune the front bearings and then keep riding. Scrapes are unavoidable given my slightly cavaliar cycling style but the rims have so only suffered minor cosmetic impact from this.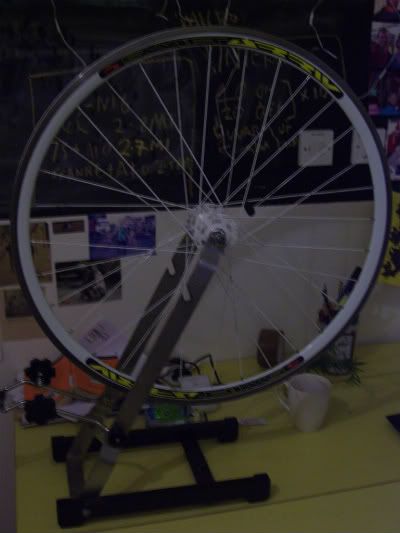 The Stand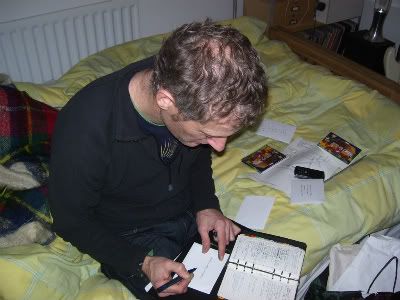 Graham the Mechanic. Not Ted 
Running Costs: £15 for wheel truing. Total now £17.50