30 January 2013 - 446 days, 5016 Miles
Posted on 30 Jan 18:17
Full Test: So, 5,000 miles in. How have the wheels fared? We've taken them off the bike, put them in a jig and inspected them - looking at tension, trueness, hub condition and roundness
Bearing Condition
Front: No play, smooth, could do with a re-grease
Rear: No play, smooth, no issues
Spoke Tension
Front: Fine, nice and tight
Rear: One loose and one bent spoke, needs a quick repair
Trueness
Front: about 1mm out. A tiny true if you want but not needed
Rear: A 3mm kink, needs truing
Roundness
Both wheels: as before, a slight deviation from roundness, but not an issue so we haven't trued for this.
Rim Wear
Front: minimal wear
Rear: no brake, no wear...
Photos, Cosmetic Condition and Summary
After a good scrub the wheels have come out remarkably clean, with just a small scratch here and there they basically look new. See images below.
The wheels are running absolutely fine, needing a minimal service to get them back to tip top condition.
This is very, very pleasing after 5,000 sometimes pretty gungey miles.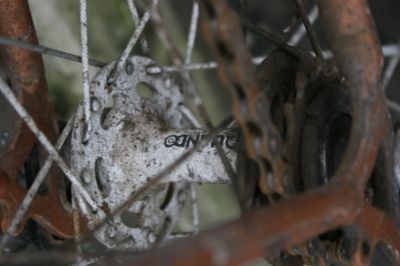 Rear Wheel Before Clean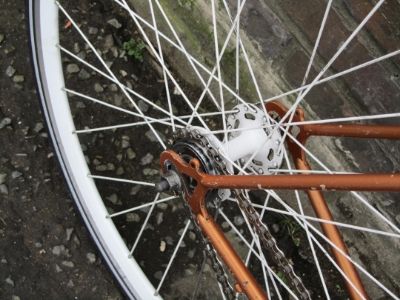 Rear Wheel After Clean

Front Wheel After Clean
Renovation
We have renovated the bike in preparation for handing it over to a new custodian for what we hope will be another 5,000 miles.
Full sized images here. This is what we've done:
Thorough Clean
The frame and wheels have been utterly cleaned and you can see just what good cosmetic condition the wheels are in from the images above. The whole bike, clean, is shown below: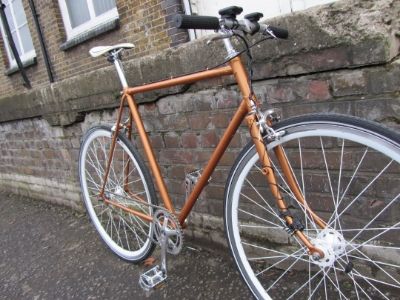 Chainset, Cog and Chain
We've replaced the vintage chainset with one of our SSC Modern chainsets, with a compatible bottom bracket, and with a new standard chain and 17T Dicta freewheel.
Our original fixed sprocket is still usable but we're moving to freewheel usage now. Changing both cogs warrants a new chain even though the previous one was still in decent condition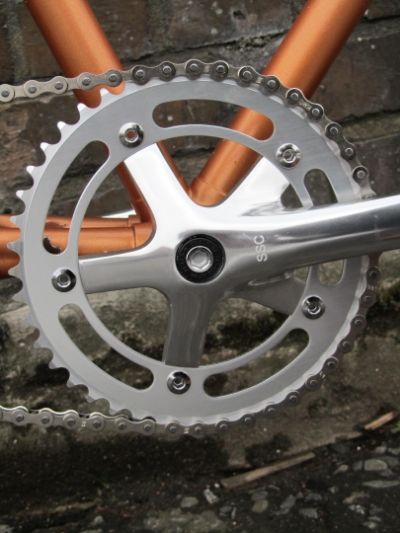 Dual Pivot Brake System, Flat Bar, Second Computer and Marathon Plus Tyres
Now that we're moving to freewheel we need a rear brake and have taken the opportunity to start again with a pair of new dual pivot brakes, as well as a flat bar and our brutalist brake levers.
We also decided to put a second distance computer on the bike for a bit of security, especially given the condition of the original one.And finally, we've put some Marathon Plus tyres on the bike to see if they can provide the super puncture protection often claimed for them.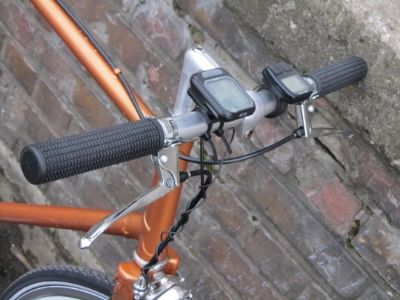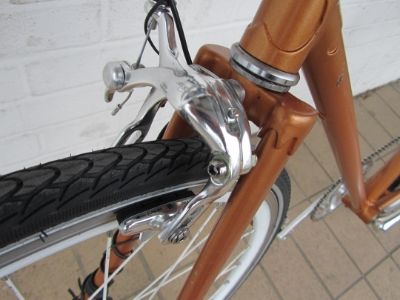 Running Costs: £57 for the Marathon Plus tyres and a new chain. Total now £167. This is a big increase, but remember these tyres are an investment, we expect them to run and run and run and run...